Selling, Trades okay...
mail me at xiaohui_tracy@hotmail.com
+6/0/-0
ITEM 7603-B: THE VICTORIA-BECKHAM INSPIRED PENCIL SHEATH IN DARK GREY

(BNIB) NOT WASHED OR NOT WORN

SELLING $36.50
SIZE M
PTP: 17.5"
WAIST: 14.5" HIPS: 18"
LENGTH: 37.5"

Made of SUPERIOR cotton polyester mix. Quality assured.
BOUTIQUE STANDARDS!
Inspired by Victoria Beckham's signature structured pencil sheaths, this piece is bound to flatter your body
in every way possible!
Comes with hidden back zip, comfortable silk like inner lining
Boutiques retailing this for $90 and above!

Reason of selling: Got both light grey and dark grey. Letting dark grey go as both look pretty similar in colour.
ITEM 8002: THE EXCLUSIVE PAUL-&-JOE-SISTER-INSPIRED WORKDRESS
Washed, UNWORN
SELLING $25
PTP: 14.5-18"
WAIST: 13-17" HIPS: 16-22"
LENGTH: 33.5"
Made of cotton-polyester mix. Structured and Stretchy.
Comes with side zip, no lining. Belt not included.
Intoxiquette is the only retailer selling this awfully gorgeous classic dress.
QUALITY ASSURED!
Reason of selling: A little too short for me.
SELLING Balmain Inspired Blazer

(BNIB) NOT WASHED OR NOT WORN
Selling $32
Back by popular demand, this Balmain Inspired Blazer is still highly raved by the models!
All of us had to keep more than one colour each!
Slightly pointy shoulders give the strong shoulder look withou being over the top.
Pair it with anything and wear it on any occasion!
Made of soft structured cotton and textured on the lapels of the blazer.
ptp16" to 19.5" down 21"


Reason for selling: Too many jackets.
Warehouse Inspired Shiftdress
in
CHAMPAGNE

Washed not worn
Selling $23


Another must-have for both our working models!
Perfect for work and then drinks after.
Everyone had a hard time deciding which colour to keep!Made of structured cotton and not sheer.
A definite must have in warm solid hues!
ptp 14" to 16.5" down 32"
Reason for selling: Too short for me..
Chiffon Pleated Mini In Fuschia and Blue
Both worn once.
Selling $20
A must-have!!
Made of soft chiffon (fully lined) with lovely layers of ruffles at the bottom
We took more than 2 colours each as it's really flattering & easy to match!
Comes with a complimentary thick waisted belt
Royal Blue Chiffon Tube Dress

(BNIB) NOT WASHED OR NOT WORN
Selling it at $25

pit to pit : 12" - 17"
length from bust down : 24"
Fits UK 4 - small 10


This is a gorgeous piece!!

Reason of selling: I love the chiffon dress and i bought two colours by impulse!
And i realised i love the pink one more therefore letting this royal blue go.

Grecian Top
WASHED, UNWORN
Selling it at $20
pit to pit: 12.5 - 16 inches
Length: 32 inches from shoulder down
Fits UK 6- 8

Material:
Chiffon with thick inner lining.
Satin trimming straps.
Unique pleated details.
This dress was a hit and we decided to manufacture the top version so you can wear to school or any day out ! Definitely a versatile , casual and yet chic top !!
Reason of selling: I got one in jade green. Prefer the jade green.


WINE and WHITE Chiffon Tube Top
WASHED, UNWORN
selling $20
pit to pit: 12.5 - 16 inches
Length: 24.5 inches
Fits UK 6- 8
Material:

Soft and good quality chiffon material.
With satin contrast waist trimming.
Stretchable with elastic band at the back of top.
With thick inner lining.
Reason for selling: Too many tube tops...


Alice Key Hole Halter Top
(BNIB) NOT WASHED OR NOT WORN
Selling it at $25!

PTP: 13- 18 inches
Length: 25 inches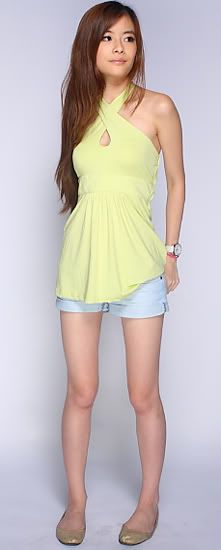 Photos Credit to Agneselle

Reason of selling: I don't look good in halter.
LOOKING FOR

AE Oscar Dress in BLACK
BC Structured Shift Work Dress in Red or Black

AND LOTS MORE! Hit me with trades if you have AE AND BC items! =)
PLEASE e mail to xiaohui_tracy@hotmail.com
TRADES OKAY. BUT PLEASE be reasonable.